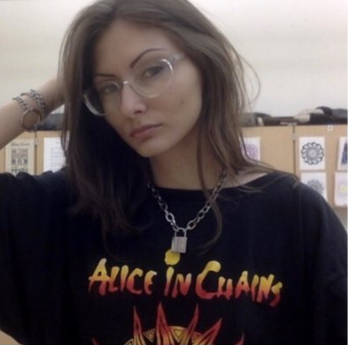 Sol Pais
She is actually the reason I created this web page.I decided to dedicate my time into making this in honour of her.
I randomly saw 19 Year Old Doomer's tribute to his Doomer Queen
with the song that represents her online nickname Dissolved Girl. This thing intrigued me and I decided to search more about her on the web.

I instantly spotted her beauty, her great music taste, but then, reading what happened - it hit me really hard.A loss of a young soul always makes me feel awful.
I found her journals on the web - it is obvious that she was very clever and intelligent too.
In the end, as I'm typing this while holding my tears, I feel angry - the media made her look like a monster and i sincerely hope she didn't see any of this bullsh*t that was posted during her manhunt.
It is sad, that she never got understood
How her crushed soul never got the support it needed
I'm angry that nobody helped her cope with depression
But I'm thankful that you shared those journals, they meant a lot to you, and now your wise words speak for yourself and we can relate to what you felt.

After all, I just hope that you've found your inner peace, wherever you are.I will keep a part of you in my heart because you mean a lot to me. I love you, beautiful soul, Rest in peace...

---
According to your last.fm the last song you've listened to before pulling the trigger was Burn - From "Natural Born Killers" Soundtrack so I've posted it here. Thank you for everything,Dark Star.
This world rejects me
This world threw me away
This world never gave me a chance
This world's gonna have to pay

---
Here I share my afterthoughts
---
15th of April, 2020.
It has been a year since Sol passed away.1 whole year, god. I had no intentions to come back here but I decided to.
In fact, looking at what I wrote months ago I can conclude its really cringy and i just want to delete everything from here. However I'd leave it stay for now.

I dont have anything to say, but I'm gonna share this song I really like : "It's been a long year since you've been gone" . Rest easy, Sol.
Go Back
English isn't my native language and I'm sorry for all the mistakes